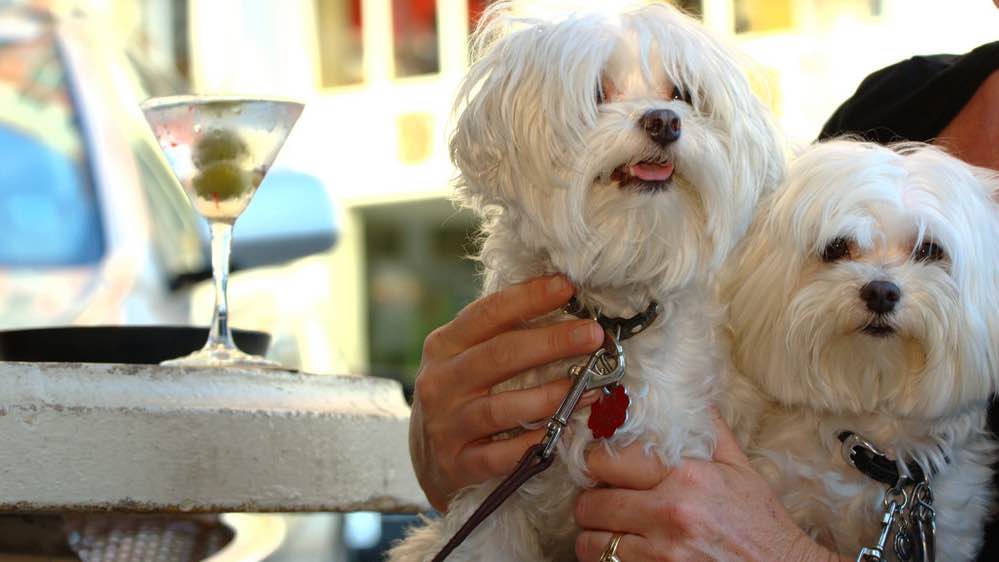 Following are the top 10 restaurants in Seattle, WA that welcome dogs at their outdoor tables.
1. Duchess Tavern
2827 NE 55th St, Seattle, WA, US, 98105
(206) 527-8606
The Duchess welcome dogs however they do have some restrictions. They do not allow dogs during game days.
Why I keep coming back: I can bring my dog when it's not busy!!!  Yelp Review
2. Summit Public House
601 Summit Ave E, Ste 102, Seattle, WA, US, 98102
(206) 324-7611  facebook.com/summitpublichouse
Summit Public House has a great selection of beers on tap and welcomes dogs outside on the patio.
FYI – you can no longer bring dogs inside Summit! Apparently the health department cracked down (Thanks Seattle Nanny City!) and now you can only go on the front patio. This sucks !! Is Norm's next!? Yelp Review
UPDATE:
Summit Public House's Facebook Page responded to us with the following comment.
Unfortunately the summit pub is no longer dog friendly. Don't get me wrong we still love all the pooches but the Seattle health department told us we can either have a kitchen that serves food or dogs inside but not both. Sorry guys
3. Portage Bay Cafe
4130 Roosevelt Way NE, Seattle, WA, US, 98105
(206) 547-8230 portagebaycafe.com
Portage Bay Cafe is dog-friendly and focuses on local, sustainable fare that's as good to the earth as it is to your taste buds. Dogs are welcome to join diners on the patio when the patio is open.
My sister and I did a loop around lake union with her dog, and we were looking for a place to eat with the dog. We read that they were pet friendly, and they welcomed us right in, and he just sat under the table while we enjoyed our delicious food! BringFido Review
4. Jolly Roger Taproom
1111 NW Ballard Way, Seattle, WA, US, 98107
(206) 782-6181 maritimebrewery.com
Taproom for Maritime Pacific Brewing, with upscale pub food, in-house beers & pirate-themed decor. Dogs are allowed on the outside patio area only.
Just had an awesome lunch on the patio with our dogs. Brought them water and dog biscuits. Great beer and food! BringFido Review 
5. Chuck's Hop Shop
656 NW 85th St, Seattle, WA, US, 98117
(206) 297-6212 chuckscd.com
Beer shop with hundreds of bottled beer varieties plus 30 craft brews on tap by the pint & growler.
Plenty of great beer options.  Hundreds of choices with something for everyone.  Great place to pick up some beer to take with you or sit down and enjoy the atmosphere.  There are food carts that park outside and rotate regularly.  Best part, there are always adorable dogs around. Yelp Review
6. The Leary Traveler
4356 Leary Way NW, Seattle, WA, US, 98109
(206) 783-4805 learytraveler.com
Unpretentious neighborhood pub serving refined American grub, a large beer list & creative drinks. Plenty of pet-friendly seating outside.
The food is amazing, the prices are quite reasonable, the staff is attractive, & they let me bring my sweet Pup, Fiona!!! Granted the best thing about this spot is that it's downstairs from the best tattoo shop, Black Tiger Killective. Blake made my skin beautiful then we had cocktails with our babies in tow. NICE! Google Review
7. St. Clouds
1131 34th Ave, Seattle, WA, US, 98122
(206) 726-1522 stclouds.com
Homey restaurant known for its brunch serving up Pacific NW comfort food & regular live music. Pets welcome in the back garden area, weather permitting, and the front patio tables.
Food is delicious. Staff are gregarious. Service is prompt and professional. Willing to let you sit on the front patio area with your dog. Very family friendly. Google Review
8. Chaiyo Thai Cuisine
11745 15th Ave NE, Seattle, WA 98125
(206) 361-8888 chaiyonorthgate.com
Long-running Thai restaurant serving classic dishes in a dimly lit, earth-toned setting. Extremely friendly staff allows dogs in outdoor seating area on warm days.
The customer service at this restaurant is so warm and inviting. They were extremely friendly and ever one of the staff were overexcited to play with our dogs. It was a bit warm out and during our meal, they even brought a bowl of water for our dogs. A must-stop if you are in the area and in need of some yummy Thai food. BringFido Review
9. Maggie Bluffs
2601 W Marina Pl, Seattle, WA, US
(206) 283-8322 maggiebluffs.com
American comfort fare such as sandwiches & salmon served in casual digs with a patio & ocean views. Spacious outdoor patio that welcomes dogs.
Great view of the marina and Seattle from the table. Food is good….although I think they've changed the menu and they're aren't as many choices as there used to be. I have one small well-behaved dog, and we sat on the patio area, closed to the walkway. I didn't encounter any troubles for bringing my pooch. I'm not sure if they allow dogs inside, or if it's just the outdoor patio. BringFido Review
10. Mama's Cantina
2234 2nd Ave, Seattle, WA, US, 98121
(206) 728-6262 mamascantina.com
Festive eatery dishing up contemporary Mexican dishes, homemade salsas & numerous tequilas. Dog-friendly outdoor seating.