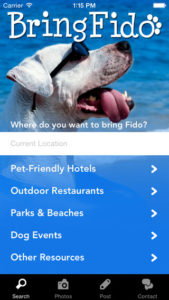 Spending true quality time with your dog is a delightful experience but, when you're crunched for time, that isn't always easy. Owner-dog bonding often has been confined to a romp in a fenced backyard or a monotonous walk around the same old neighborhood block.You've probably noticed, in the last few years, dogs and their owners have broken free of this traditional arrangement.
More than ever before, dogs are traveling with their human companions. Have dog owners become more vocal or business people more perceptive of customers' desires? For whatever reason, dogs are now showing up in all sorts of public environments, where pets were once unwanted and unwelcome.
However, dog owners are very aware pet boundaries still exist. A new iPhone, iPad or iPod app, BringFido.com, helps solve the problem of learning which places are pet friendly. But, the pet travel site offers a lot more.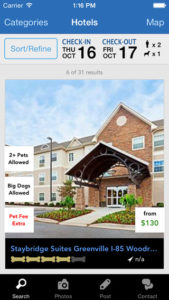 The app will help you locate dog parks and other recreational areas, like hiking trails and beaches, where canines are permitted. You can find local businesses that allow pets and use the site's resources to get info about a veterinarian, groomer, dog sitter or pet shop.
BringFido's biggest plus may be its ability to help you plan a pet friendly vacation. The site has worldwide connections to dog friendly hotels, motels, B&B's, and rentals. The site guarantees the lowest prices for dog-welcoming hotels and offers email and phone assistance at no charge.
BringFido also invites you to review, discuss and add dog friendly locations. Feel free to share photos of your pet travel experience.
Great way to spend more time with your favorite friend!